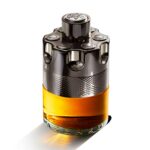 Azzaro Wanted by Night
RM305.00-RM480.00 RM188.00-RM369.00
100% Original – No Rejects – No Grades – No Fakes
Azzaro Wanted by Night
TOP NOTES
Lemon, Ginger, Lavender, Mint
HEART NOTES
Apple, Juniper, Cardamom, Geranium
BASE NOTES
Tonka Bean, Amberwood, Haitian Vetiver
After midnight, boldness and seduction intensify. Just like Azzaro Wanted by Night. Taking inspiration from the all-night web woven by Loris Azzaro in the 1970s, this Eau de Parfum for men captures those nights and the endless parties that went on until the wee hours and beyond…
HE OWNS THE NIGHT
Azzaro Wanted by Night is the fragrance of a modern-day Gatsby. An extraordinary man. Elegant, bold, magnetic, he catches the light and creates a buzz around him. Everywhere he appears, whether night or day, he attracts stares, awakens the senses, and arouses desire… For him, it's an endless night; and for them, it's a one-on-one moment that they will never forget…
AN IRRESISTIBLE COCKTAIL
Azzaro Wanted by Night sets the tone. Just like the man who wears it, ready for seduction. Through its woody and spicy notes, desire grows, becoming almost tangible, attracting everything in its path. An Eau de Parfum with three distinct triggers…
HOT MATERIALS
Rarely has a fragrance from the "Woody-Oriental-Spicy" family dared to go this far. Azzaro Wanted by Night flaunts its wild sensuality, thanks to its bold and mainly sustainably-produced ingredients.
DOUBLE PLAY
The cylindrical Azzaro Wanted bottle is out and dressed up for a party. For this nighttime creation, the mythical chrome-plated cap dons an elegant dark lacquer. Perfectly suited to this nocturnal world, the fragrance has adopted an amber tone. This mechanical wonder triggers a feeling of mystery.
The Azzaro man is bold, elegant and incredibly seductive. Azzaro Wanted By Night Eau de Parfum for men is perfect for an endlessly sociable evening. The Azzaro man is a night owl and a hedonist; elusive and mysterious, he creates an impression then disappears in the blink of an eye. His fragrance, however, lingers. This modern-day Gatsby goes beyond these fleeting encounters, leaving an irresistible sense of desire in his wake. Featuring woody, spicy notes, Azzaro Wanted By Night is a resolutely seductive and masculine fragrance. This Azzaro fragrance will appeal to night owls, the magnetic and mysterious men who create a buzz wherever they go.
Share your thoughts!
Let us know what you think...