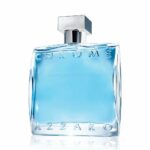 Azzaro Chrome
RM180.00-RM380.00 RM135.00-RM305.00
100% Original – No Rejects – No Grades – No Fakes
Azzaro Chrome
TOP NOTES
Bergamot, Bitter Orange, Lime
HEART NOTES
Ocean Notes, Transparent Musk
BASE NOTES
Green Tea, Tobacco, Mate
INSPIRED BY THE MEDITERRANEAN
As a child, Loris Azzaro enjoyed dreaming on the beach, watching the Mediterranean take on its silver glow. He vowed to create an Eau de Toilette characterized by freshness and the color azure blue… And so Chrome was born in 1996. Its bottle and the liquid within exude sunshine, light, azure blue, and the infinity of the sky, sweeping you away with it.
THE GREAT LEAP
Chrome is a wave of freedom that has taken the world of men's fragrances by storm. The fragrance radiates energy, invigorates us and lends us wings, bestowing audacity – and even more so when it is shared.
The new Azzaro Chrome campaign retells this story with tenderness. In Antiparos, Greece, a villa with clean, simple lines overlooking the sea serves as the backdrop for an unforgettable moment shared between a father and his son. Director Christopher Hewitt is the mastermind behind this new ad campaign, giving it an incredibly modern feel with his highly graphic visual approach.
ENVELOPING FRESHNESS
Azzaro Chrome refreshes and illuminates… As the scent of sweet escape, Chrome distills invigorating, exhilarating and comforting freshness, the way the sun feels on the skin after a splash in the sea, year after year.
ONE SIGNATURE
The perfumers of Azzaro Chrome are unanimous that a single delicate harmony distinguishes this fragrance. The natural warmth of mate leaf encounters the persistent freshness of bergamot and the luminosity of transparent musk. An innovative, original fragrance and source of well-being that is instantly recognizable among thousands.
A SLEEK,REFINED BOTTLE
The Chrome bottle's square shape and chevron-patterned silver cap make it an object that affirms its masculinity as much as it reassures. The fragrance's azure blue color radiates from within the perfectly structured glass. The bottle's purity of design exudes freshness and elegance.
Share your thoughts!
Let us know what you think...