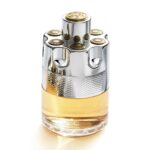 Azzaro Wanted
RM272.00-RM445.00 RM175.00-RM258.00
100% Original – No Rejects – No Grades – No Fakes
Azzaro Wanted
TOP NOTES
Lemon, Ginger, Lavender, Mint
HEART NOTES
Apple, Juniper, Cardamom, Geranium
BASE NOTES
Tonka Bean, Amberwood, Haitian Vetiver
Bold. Powerful. Irresistible. This woody citrus and spicy scent, crafted with explosive lemon, energizing cardamom and opulent Tonka bean is for the man who dares to live life to the fullest.
Created to seduce and to be desired, Azzaro Wanted embodies the values of the brand and the charisma of its founder, Loris Azzaro. Between brightness, seduction, hedonism, generosity, liberty and charisma, the perfume "celebrates life" with strength and boldness.
A MAN WHO AROUSES DESIRE
Azzaro Wanted is the fragrance of a highly successful man for whom everything is possible. Independent, he lives life on his terms, follows his instinct and changes the rules of the game constantly. He boldly takes chances with complete confidence, disregarding his destiny to get what he wants. Whatever he aims for, he gets. Whatever he dares to do, he wins. Enough to arouse the envy of men and the desire of women.
INTOXICATING ACCORDS
A seducer, Azzaro Wanted leaves trouble in its wake. The creation plays with both hot woody notes and fresh, spicy aromas. From this intense harmony, desire is born.
A WEAPON OF SEDUCTION
Armed with its mechanical, metallic and glamorous contours, the Azzaro Wanted bottle flaunts its masculinity with originality. Its cylindrical shape symbolises a liking for play and a taste for challenge. Its shiny, showy metal cap recalls the perfume's solar power. It is a work of art that speaks of devotion, luxury, and desire.
Reveal your magnetic elegance with the perfume Azzaro Wanted. Azzaro Wanted is the fragrance for men with unfailing confidence, who succeed the impossible and follow their instinct. With the Eau de toilette Azzaro Wanted, a fragrance with woody and spicy notes, discover an unfailing weapon of seduction. Its entrancing aromas reveal notes of vetiver, cardamom and lemon. The perfume Azzaro Wanted is available in products for the body in order to be irresistible on all levels. Dare to become a true hero, an object of all desires, the Wanted Man with Azzaro Wanted.
Share your thoughts!
Let us know what you think...