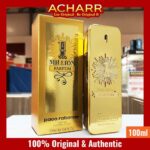 Paco Rabanne 1 Million Parfum
RM328.00-RM432.00 RM224.00-RM284.00
100% Original – No Rejects – No Grades – No Fakes
Paco Rabanne 1 Million Parfum
TOP NOTES
Vibrant Grapefruit
HEART NOTES
Salt, Tuberose, Ambergris
BASE NOTES
Solar Notes, Leather
Seductive wake, irresistible. There is never too much gold for 1 Million. A bad boy who views life as BIG. Otherwise, what's the point? Does not obey anyone except his fantasies. Golden rule. And he gets what he wants. In a snap. His mascot: an ingot. His fragrance: a blazing wake. A scent that jostles. And literally captivates.
How to be the 1 Million among Millions? Be confident with your style. Do not be afraid to be outrageous. Be brave enough to be too much. To be 1 MILLION. Sun-drenched leather with salty effects. A warm deliberate scent on the edge of the extreme.
Salty pulse: "tuberous salty" textured by amber woods. Leather opulence: accord "solar leather" patinated with notes of resin and pine.
Share your thoughts!
Let us know what you think...