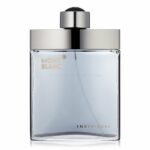 Mont Blanc Individuel
RM265.00-RM339.00 RM135.00-RM168.00
100% Original – No Rejects – No Grades – No Fakes
Mont Blanc Individuel
TOP NOTES
Bergamot, Mint, Coriander, Juniper Berries
HEART NOTES
Cinnamon, Geranium, Lavender, Jasmine
BASE NOTES
Tonka Bean, Vanilla, Chocolate
This perfume highlights the independence, mystery and romance of the individual man. Its lonely side accentuates its charm and personality.
He is a man who is both original and traditional but who, beyond his wisdom, is distinguished from others by his determination.
He is never satisfied with conformity, he chooses to excel, which naturally leads him to fulfill himself.
This refined and distinguished fragrance develops multiple facets whose personality is given by a rich variety of natural ingredients.
The citrus freshness of bergamot mingles with an invigorating aromatic bouquet of mint, coriander and juniper berries.
The floral and spicy heart is a sweet mix of cinnamon, geranium bourbon, lavender and jasmine.
Oak moss and precious woods provide an elegant wake before melting into an oriental touch of tonka bean, vanilla and chocolate, which enhances the sensual depth of the fragrance.
Share your thoughts!
Let us know what you think...