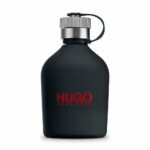 Hugo Boss Just Different
RM350.00 RM185.00-RM216.00
100% Original – No Rejects – No Grades – No Fakes
Hugo Boss Just Different
TOP NOTE
Ice Cold Mint, Green Apple
HEART NOTE
Basil, Freesia, Coriander
BASE NOTE
Cashmere Wood, Patchouli
HUGO BOSS JUST DIFFERENT is for the man who takes inspiration from everything around him. He has the ability to see the world around him differently. His journey is unusual and the route he takes seems random.
HUGO BOSS JUST DIFFERENT is a reinvention of the classical, fresh, masculine Fougere fragrance type. It is characterised by the unexpected fusion of different ingredients, combining fresh coolness with a soft, underlying warmth.
Share your thoughts!
Let us know what you think...