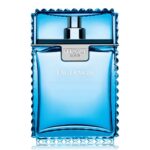 Versace Man Eau Fraiche
RM238.00-RM340.00 RM191.00-RM285.00
100% Original – No Rejects – No Grades – No Fakes
Versace Man Eau Fraiche
TOP NOTES
Lemon, Rose Wood
HEART NOTES
Cedar Leaves
BASE NOTES
Amber, Sparkling Musk
Once again Versace Man, once again the strong and self-confident man, fond of luxury and very attentive to the directions of fashion, but this time in a decidedly more introspective, composed version. No more of eccentricity and impudence of narcissism, but rather elegant understatement and a growingly alluring charm, no more in-your-face sensuality, but rather a willingly contained one.
For the man whose strength is his soul, who feels free and knows how to enjoy life bit by bit, Versace Man Eau Fraiche, a new harmony of scent where the most classic ingredients of men's scents are refreshed with unusual notes, giving life to a surprisingly fresh fragrance.
Share your thoughts!
Let us know what you think...