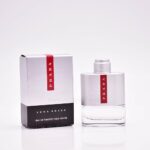 Prada Luna Rossa 9ml
RM45.00
Each for RM 40 | Mix any 3 Travel Size | Read more below
Join waiting list and get notified when this item is back in stock.
Miniature is 100% Original and Authentic made by the same original manufacturer in miniature size.
Miniatures are best for travelling since one can simply carry them by the pocket or place it inside a purse easily.
Just as the name suggested, miniatures retain the looks and shapes of the original standard size perfume but in a smaller form factor and due to this, miniatures are loved by everyone and especially collectors would display them as decorations.
Miniature sizes ranging from 4ml ~ 20ml. On standard usage, it may last up to 60 days.
DISCOUNT – MIX any 3 travel size
Mix any 3 products from [Travel Size] category to get RM 5 discount for each product.
Travel Size includes: Miniatures, Travel Sprays, Travel Stick, Roll-on
All discounts are given automatically when items in cart are eligible for it, no coupon code needed.
Share your thoughts!
Let us know what you think...