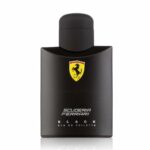 Ferrari Scuderia Black
RM230.00 RM119.00-RM149.00
100% Original – No Rejects – No Grades – No Fakes
Ferrari Scuderia Black
TOP NOTES
Lime, Red Apple, Bergamot, Plum
HEART NOTES
Cardamom, Cinnamon, Jasmine, Rose
BASE NOTES
Cedarwood, Amber, Vanilla, Musk
Shape, spirit, mystery, sensuality: this is the concept which inspired the creation of this legendary fragrance.. Strictly black. The colour becomes the predominant element. The Black cap, the Black bottle, the Black shoulders, the Black actuator. The original design, severe and smooth, of the SCUDERIA FERRARI fragrance bottle, now acquires an irresistible strength and power. Entirely hot sprayed with Black matt paint, with a satin finish, the bottle has the same velvety softness as the box, a real pleasure to the touch as well as to the eyes. In the centre the beautiful label reigns, resin-bonded in relief in the shape of the shield: a precious and prized detail, a seal which bestows movement and tridimensionality.
The top accord releases an exciting strength: harmony of Citrus notes, Lime and Bergamot, blended with bright-fruity touches, Apple and Plum.
The heart accord diffuses a deep mystery: Warm spices, Cardamom and Cinnamon rounded by a precious floral notes, Jasmine and Rose.
The base accord reveals a clear, masculine sensuality: Elegant woody notes, Cedarwood, Amyris Wood, softened by Vanilla and the intensity of Crystals Musk.
Share your thoughts!
Let us know what you think...