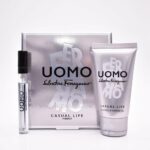 Ferragamo Uomo Casual Life Mini Set
RM50.00
100% Original – No Rejects – No Grades – No Fakes
Join waiting list and get notified when this item is back in stock.
This mini set contains:
Miniature 5ml – Splash
Shampoo & Shower Gel in One 50ml
Mini set is 100% Original and Authentic made by the same original manufacturer. Mini sets are great as a gift as well as travelling for it's small size and often comes with body care products of the perfume.
Share your thoughts!
Let us know what you think...